This web page was created and run by me, a private party. I am not affiliated with any fertility agency, and have listed this site privately, and at my own expense. I have no ties to a fertility agency, clinic or doctor. The information contained here is private, and not to be shared with third parties, unless they are associated with the matching couple in their donor search (i.e., attorney, sponsoring fertility clinic, etc.).
Statement on Donor Expectations
I currently reside in Alabama, but I am willing to travel. All travel expenses and medical and clinical expenses related to the procedure will be provided for me by the matching couple, in addition to the donor fee, which will negotiated when we correspond.
My Children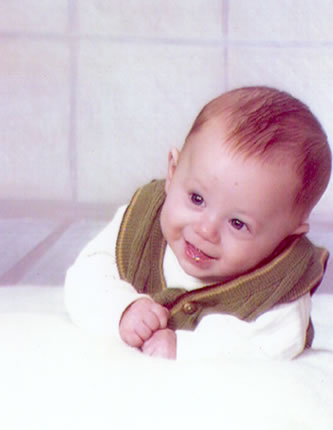 Academic Record
Graduate School Pending To begin Fall 2002
Troy State University Montgomery Montgomery, AL
Bachelor of Science--Professional Studies, Psychology and Occupational Therapy concentrations To be received 6/02
GPA: 3.87
Penn State University State College, PA
Studied English and Occupational Therapy 1996-1999
GPA: 4.0
Bellefonte Area High School Bellefonte, PA
Graduated with Honors 1996
GPA: 3.9
SAT score: 1180
Gifted Program
Creativity and Interests
Published Author
-Award winning poet
-Authored two children's book series for military brats
-Currently contracted with publishing company for two novels in progress
-Contributing Editor, Calico Trails Magazine
-Owner of Fan Fiction website, accepting and editing submissions
-Student writer for Centre Daily Times newspaper in high school
Music
-Violin, 12 years
-Piano, 5 years
-High School Band, 2 years
Art
-Amateur sketch artist
-Experienced in Web Page Layout/Design
Achievements and Honors
Honor Societies
--Gamma Beta Phi
* TSUM chapter
*Serving as Webmaster and Vice-President
--Phi Eta Sigma
*Penn State chapter
--National Honor Society
--National Junior Honor Society

Girl Scouts
*Recipient of Gold & Silver Awards--Highest Awards in Scouts
*14 years in scouting, including two years as Junior Leader
Various other honors, such as Who's Who Among American High School Students
Interests
I enjoy reading and writing, having been an outstanding student in English throughout my career. I am an accomplished author, and with the help of my new publisher, I am just now kicking off my career as a writer.
I love creativity, often taking up a pencil to do portrait sketches. I also enjoy scrapbooking, crafting and painting.
I am an excellent student of language and writing, and above average in mathematics.
I love history, travel, the Discovery Channel, and teaching.
Family Background
I come from a rich family background, with ancestors from practically all walks of life. I suppose you could call me a mutt. :) I have a mix of Welsh, British, Irish, German and Native American blood. I can trace my ancestry back to the 1850's, and am working on a comprehensive collaboration of my family tree.
Many family members have been involved in highly technical careers, such as engineering and computers.
We have no known genetic disorders or diseases.
Other Information of Interest
I do wear eyeglasses to correct a nearsighted vision problem.
I am physically in good condition and perfectly healthy.
I had common allergies as a child, but have outgrown virtually all of them (except for cats).
Contact Information
If you think I may be the candidate for you, please email me at TumbleweedCrossing@yahoo.com